Basic Sea Kayaking II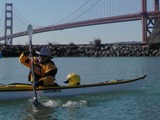 This all-day class picks up where Basic Sea Kayaking I left off. You'll learn how to coordinate edging with the basic stokes to make the boat spin on a dime, and you'll expand your repertoire of strokes to make the kayak slide, zigzag, and move any way you want. If conditions allow, you'll also get to experience first-hand how these moves are applied in the ocean or bay.
Who is this class for?
Anyone who has had a basic sea kayaking class and wants to continue developing the skills necessary to paddle in more challenging waters.
Experienced paddlers who are looking to refresh and refine their basic skills.
Sea kayakers who are interested in working toward their BCU 2-star award.
Whitewater kayakers who are interested in transitioning to sea kayaking.
What is covered in this class?
Refinement of the forward, reverse, and sweep strokes.
Coordinating edging with the basic strokes.
Playing with "real-world" bracing scenarios by combining bracing with strokes and edging.
Various draw and ruddering strokes for maneuvering the kayak precisely.
Paddling and performing rescues in water that is somewhat exposed to wind, current, and swell.
What is provided in the class?
Sea kayak and paddle
Wetsuit and paddling jacket
Sprayskirt
Personal floatation device
Bilge pump and paddle float (for practicing recoveries)
What do I need to bring?
Swimsuit or shorts
Long-sleeve fleece shirt (synthetic or wool, no cotton)
Shoes that can get wet (neoprene booties, water shoes, old tennis shoes, etc.)
Lunch, snacks, drinking water, sunscreen, and towel
Strap for eyeglasses ("chums" or "croakies")
Optional: hat, waterproof camera
What's next?
Ready to sign up?